If you're seeking suppliers or manufacturers in Vietnam, the most effective approach is to attend furniture fairs and exhibitions. Vietnam's furniture shows and fairs commonly unite highly skilled, large-scale enterprises. These events showcase an array of remarkable products boasting contemporary, distinctive designs and showcasing their utmost dedication. This is why you can readily discover the most fitting furniture manufacturer for your needs.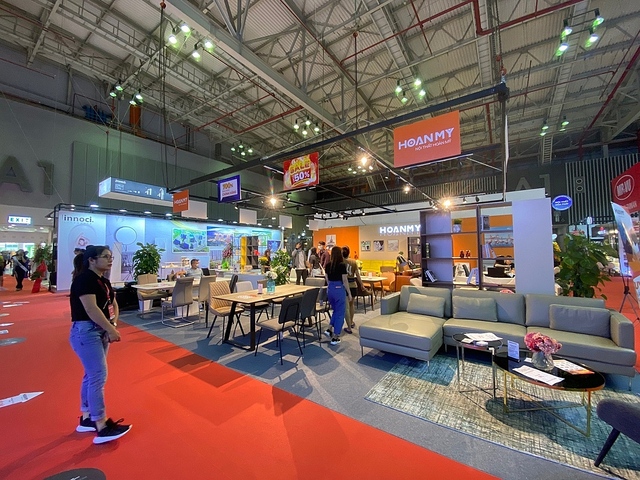 Let's explore the biggest annual furniture exhibitions alongside Furaka.
Vifa Expo
Vifa Expo is a showcase for wooden furniture and handicrafts in Vietnam. Vifa commenced its operations in 2008 for the first time. Vifa has three main objectives. Firstly, it aims to become Vietnam's premier wooden handicraft and furniture trade fair. Secondly, it strives to establish itself as a professional and esteemed platform for furniture manufacturing brands. Lastly, its goal is to assist manufacturers in accessing, promoting, and exporting furniture to developed markets.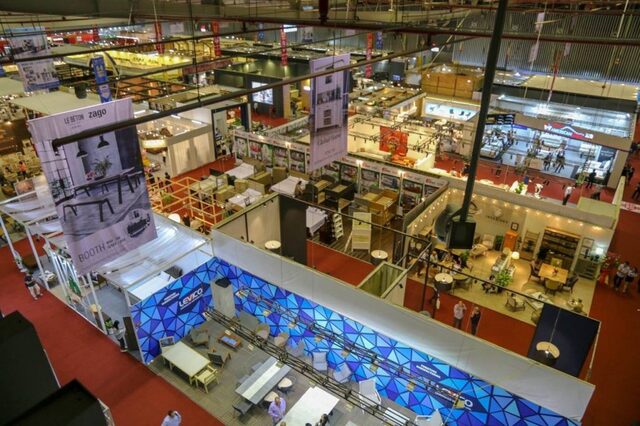 The products showcased primarily at Vifa Expo include decorative items, interior décor, handicrafts, lacquer products, indoor furniture, and architectural services, among others.
Over the course of several years of growth, Vifa Expo's furniture exhibition has expanded and garnered widespread attention. During the most recent event, the fair boasted participation from over 2,420 booths representing 519 brands across 21 countries. It welcomed a diverse audience of more than 12,328 visitors from 104 different countries, including Vietnam.
The Upcoming Vifa Expo 2023:
Typically held in March each year, the Vifa Expo presents an annual opportunity. Those intrigued can mark their calendars for participation details. Both customers and exhibitors can conveniently register via the Vifa website.
Event Details:
Date: August 29th – September 1st, 2023
Location: 799 Nguyen Van Linh, District 7, Ho Chi Minh City, Vietnam
Hosted by: Saigon Exhibition and Convention Center (SECC)
Website: vifafair.com
Vifa Gu
Vifa Gu: Your Annual Destination for Lifestyle and Interior Solutions in Vietnam. Our furniture fair aims to achieve three key objectives. Firstly, it serves as a hub for discovering your distinct interior style, offering an elevated lifestyle experience. Secondly, our focus lies in design evolution, crafting premium products aligned with prevailing interior market trends. Lastly, we establish a unified platform to connect construction firms, interior designers, contractors, retailers, architects, stylists, and marketing and communications experts.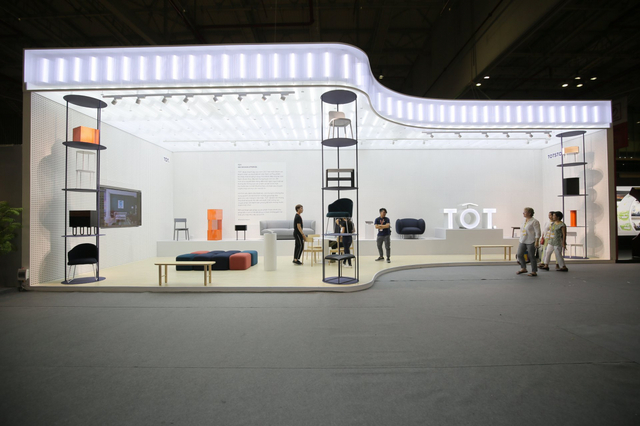 At Vifa Gu, the spotlight rests on an array of premier furniture items. These encompass elegant living spaces, products from esteemed brands, intricate handicrafts, household essentials, apartments, hotels, and upscale residences.
Vifa Gu holds a prominent stature as a leading furniture exhibition in Vietnam, captivating over 100 enterprises and welcoming an annual footfall of more than 20,000 visitors.
Vifa Gu Expo 2023:
Traditionally, Vifa Gu fairs are held annually in May. Readers interested in attending can monitor the schedule for participation timings. Both customers and exhibitors have the option to register directly on the Vifa Gu website.
Date: Updating
Location: 799 Nguyen Van Linh, District 7, Ho Chi Minh city, Viet Nam
Hosted by: Sai Gon Exhibition and Convention Center (SECC)
Website: vifagu.com
VietBuild
Vietbuild stands as Vietnam's premier exhibition for the construction industry, architectural design, urban planning, home appliances, interior, and exterior decoration. This event takes place annually in key cities, featuring over 10 trade fairs each year.
The primary objective of Vietbuild is to enhance collaboration and joint ventures between domestic and international enterprises. The secondary goal is to enhance economic efficiency, facilitate technology transfer, stimulate trade, and showcase new services and products incorporating advanced technology accessible to all visitors. Lastly, it aims to serve as a shared platform where both domestic and international enterprises, contractors, and engineers can interact, fostering market familiarity.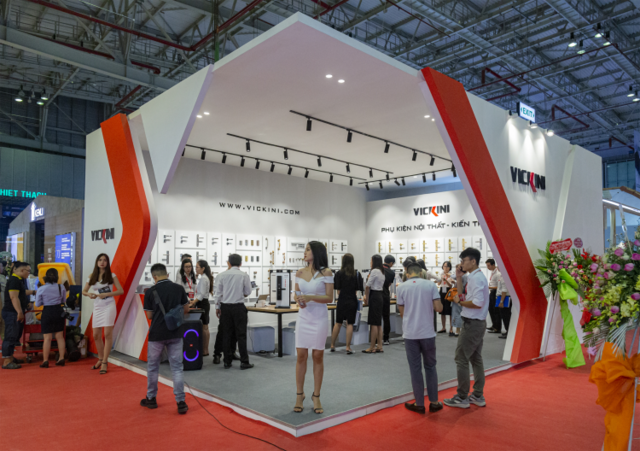 The primary showcased items at Vietbuild Furniture Expo encompass building materials, architectural components, real estate, interior and exterior décor pieces, industrial machinery and equipment, home furnishings, and more.
VietBuild Expo 2023:
VietBuild Expo is held multiple times throughout the year in four key cities across Vietnam. If you're keen on this event, you can stay updated by visiting the main VietBuild website to schedule your participation.
Website: vietbuildexhibition.com.vn
1. Ha Noi city
Date: March 15th – 19th, 2023 | September 20th – 24th, 2023 | November 29th – December 3rd, 2023
Location: 01 Do Duc Duc, Nam Tu Liem District, Ha Noi city
Organizer: National Architectural Planning & Construction Exhibition
2. Ho Chi Minh city
Date: April 12th – 16th, 2023 | June 14th – 18th, 2023 | August 9th – 13th, 2023 | November 8th – 12th, 2023 | December 20th – 24th, 2023
Location: 799 Nguyen Van Linh, Tan Phu District, District 7, HCMC
Hosted by: Sai Gon Exhibition and Convention Center (SECC)
3. Đa Nang city
Date: May 10th – 14th, 2023
Location: 09 Cach Mang Thang Tam, Cam Le District, Da Nang city
Hosted by:  Da Nang Center Expo
Vifa Home
Vifa Home is a highly esteemed annual furniture and interior decoration exhibition in Vietnam. With over a decade of history, this fair garners attention from both domestic and international customers.
The objective of Vifa Home is to solidify its position and become the premier specialized furniture exhibition for the domestic market. Additionally, it aids esteemed brands in devising comprehensive living space solutions. Lastly, it introduces high-quality interior products with promotional offers, providing alluring incentives for domestic consumers in Vietnam.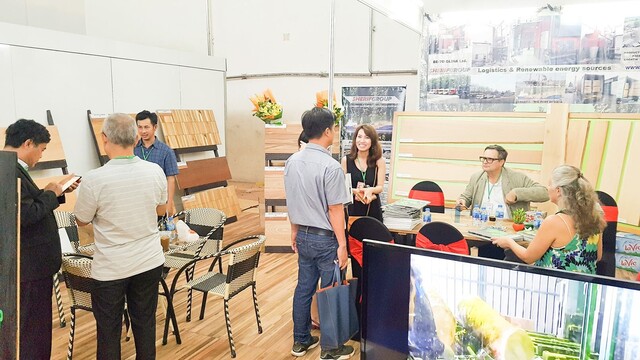 The primary exhibits at Vifa Home include interior and exterior products, handicrafts, consulting services, and comprehensive living space solutions. The 2019 exhibition featured participation from over 95 enterprises, occupying more than 450 booths.
Vifa Home Expo 2023:
The Vifa Home Expo takes place annually towards the year-end, typically coinciding with the special occasion of Black Friday. This timing ensures that fair and exhibition attendees can avail themselves of numerous appealing promotions. Stay updated on the schedule by visiting the Vifa Home homepage.
Date: Updating
Location: 1 Lu Gia Street, Ward 15, District 11, HCMC
Hosting by: Phu Tho Indoor Arena
Website: vifahome.vn
Vietnamwood & Furnitec
Vietnamwood & Furnitec stands as the premier trade show in the wood furniture and related industries, held annually in Vietnam. The Vietnamwood & Furnitec Furniture Show has garnered commendable achievements, drawing participation from over 11,000 visitors and featuring more than 570 brands representing 32 countries worldwide (as reported in 2019).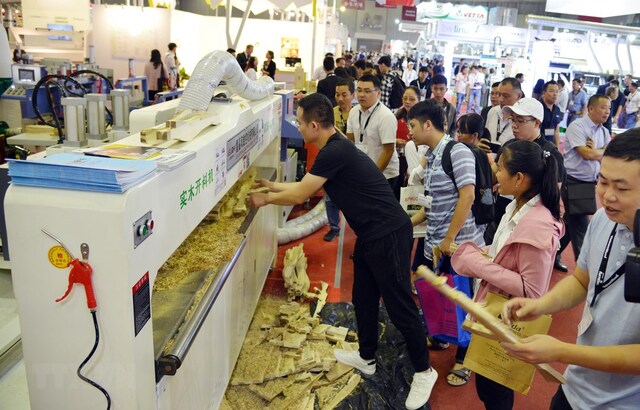 The primary developmental objective of the Vietnamwood & Furnitec furniture exhibition is to establish a robust platform for linking domestic and international furniture supply chains. The secondary goal is to enhance the reputation of Vietnamese wood product manufacturers among international traders.
The primary showcased products at Vietnamwood & Furnitec comprise interior and exterior items, as well as wood accessories such as drills and nail guns.
Vietnamwood & Furnitec Expo 2023
The Vietnamwood & Furnitec Fair is organized by CHAN CHAO LTD, in collaboration with the Association of Wood Industry and Handicraft (HAWA) and supported by BIFA, FPA Binhdinh, VIETFOREST, VAMI, and more. This furniture fair is typically held in September each year. For the event's schedule and location, you can refer to the exhibition's homepage.
Date: September 20th – 23rd, 2023
Location: 799 Nguyen Van Linh Parkway, Tan Phu Ward, District 7, Ho Chi Minh City, Vietnam
Hosted by: Saigon Exhibition and Convention Center (SECC)
Website: chanchao.com.tw
In conclusion
If you have an interest in Vietnamese furniture exhibitions, the aforementioned showcases provide valuable options. These are amongst the most esteemed and prominent furniture exhibitions in Vietnam. They serve as platforms for businesses, suppliers, architects, designers, and consumers to come together, fostering connections and collaboration in the realm of furniture product development.