The timber industry has consistently stood as one of Vietnam's leading export sectors. Additionally, the growth rates within this industry have undergone significant increases. As a result, manufacturers and suppliers have consistently reinvested in machinery and technology to satisfy the market's demands. Furniture made in Vietnam, especially wooden furniture, is gaining increasing popularity worldwide. Presently, Furaka is here to provide you with guidance on "importing furniture from Vietnam."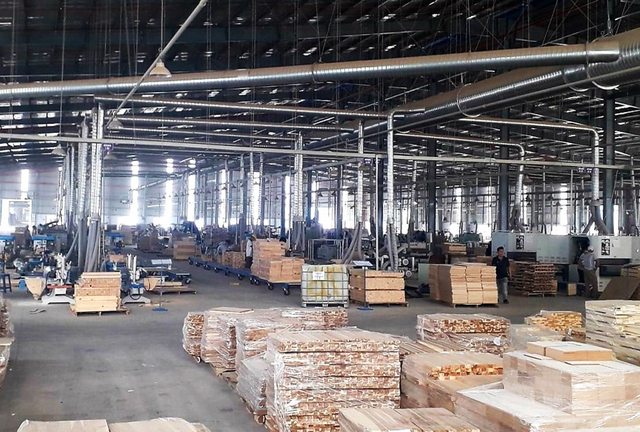 Is it advisable to buy furniture made in Vietnam directly from suppliers?
In the current landscape, numerous small and medium-sized enterprises along with FBA businesses seek to procure furniture items produced in Vietnam. The decision to opt for suppliers offering readily available furniture instead of manufacturers is motivated by several factors:
Products are readily stocked and can be shipped promptly, facilitating swift transactions.
There's no obligation for a substantial order, leading to a lower minimum order quantity (MOQ).
It saves considerable time that would otherwise be spent on inspection, visits, and price-quality negotiations.
However, in tandem with the mentioned advantages, there are several disadvantages associated with procuring furniture directly from Vietnamese wholesalers:
The products are pre-designed, making customization a challenge. This can impede the selection of items that truly reflect your brand's characteristics.
Vulnerability to heightened competition from rivals.
Difficulties in obtaining essential safety certificates and reports for entering high-demand markets like the US, EU, and Japan.
Risk of non-compliance with fire safety, explosion prevention, and regulations regarding toxic chemicals, particularly for wooden furniture products.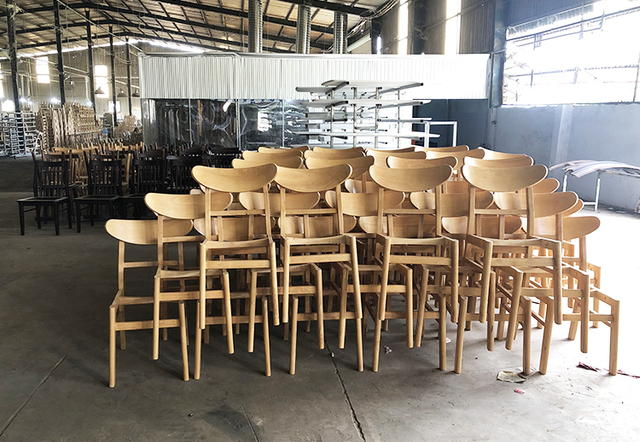 Furaka stands out as a mid-sized wooden furniture manufacturer adept at addressing the challenges outlined above.
With a notably low MOQ of just 20 products per production order, we cater to varying business needs.
We furnish comprehensive fire, explosion, and chemical safety reports.
Our outdoor furniture is expertly crafted from robust acacia solid wood, ensuring long-lasting outdoor durability.
We employ top-tier paint, guaranteeing optimal resistance against sunlight and rain.
Custom interior design is available, tailored to individual preferences and requirements.
For your convenience, sample production costs are entirely covered, even without formal orders.
Our OEM services are accompanied by competitive pricing.
Key Considerations When Selecting Furniture Manufacturers in Vietnam
To aid in your decision-making process when choosing a furniture manufacturer in Vietnam, Furaka is here to offer insights into crucial aspects that warrant your careful attention.
Primary Product Categories
The furniture industry is vast, encompassing diverse product categories across various sectors. It's a rarity to find companies of colossal scale that produce the entire spectrum of furniture products. Enterprises tend to specialize in specific domains, capitalizing on their strengths to thrive in the competitive market. In Vietnam, furniture manufacturers frequently concentrate on the following prominent segments:
Natural and engineered wood furniture
Living room furniture
Outdoor wooden furniture
Garden furniture
Bedroom furniture
Bathroom furniture
Restaurant and hotel furniture
Metal furniture
Handcrafted furniture items
Luxury furniture
Sofas
Children's furniture
Plastic furniture
Chairs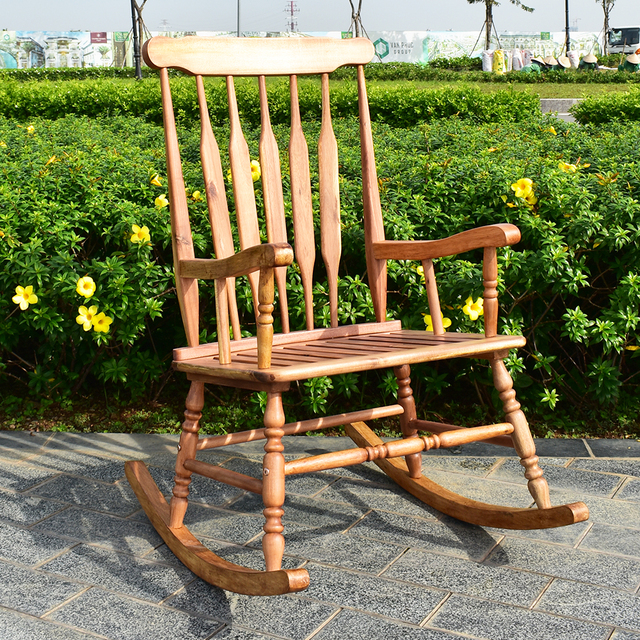 When seeking a furniture manufacturer in Vietnam, it's essential to align their strengths with your specific product needs. Opt for a manufacturer equipped with a highly proficient and seasoned workflow, adept at seamlessly integrating new product introductions.
Assessing the Size of Vietnamese Furniture Manufacturers
When embarking on the journey of importing furniture from Vietnam, thorough consideration of various aspects is paramount. Among these considerations, the size of the supplier or manufacturer holds significant weight. Overlooking the size factor could lead to engagement with intermediaries, who merely act as conduits for furniture products sourced from other manufacturers, without direct involvement in production.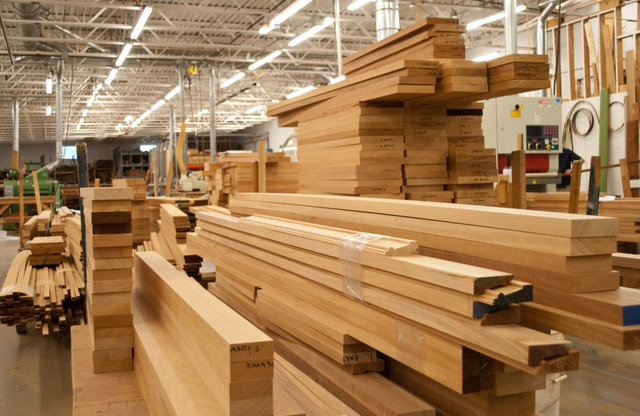 A credible interior manufacturer should boast a registered capital exceeding 1 billion VND, a fact that can be verified through their business license. Furthermore, the production capacity of your prospective partner merits close scrutiny. An essential facet is the factory's physical size, as a reputable interior manufacturing company typically occupies an area exceeding 1000 m2.
Completing your due diligence, it's advised to visit their product showroom, as this firsthand interaction aids in comprehending their offerings and engenders a sense of confidence in your potential partnership.
Product Safety Compliance
When placing orders for furniture crafted in Vietnam, it's essential to request comprehensive product safety reports from the manufacturer. This proactive measure is crucial for seamless imports into markets including the EU, the US, Japan, Australia, and beyond.
Stricter safety regulations in these markets necessitate compliance encompassing areas such as chemical composition, heavy metal content, fire safety, and overall product quality. Ensuring conformity with these rigorous standards is pivotal, especially concerning products designated for children, to guarantee a safe and secure user experience.
Chemical Regulations and Usage Compliance
For seamless customs clearance in demanding markets, it's imperative that your products align with stringent chemical regulations, encompassing safe chemical usage and restrictions. A prominent instance is the REACH regulation of the European Union.
While many furniture products manufactured in Vietnam often overlook these regulations, it's prudent to prioritize them. To ensure compliance, when initiating an order, it's advisable to request pre-shipment reports from the manufacturer. This proactive step can help you navigate complex regulatory landscapes with confidence.
Fire Safety Regulations
Beyond chemical regulations, fire safety is a crucial aspect warranting your attention, particularly when selecting furniture pieces such as beds, chairs, leather items, and other customary products.
Commonly, furniture fire safety regulations encompass standards like the CPSC (Consumer Product Safety Commission) in the USA or the California Technical Bulletin 117 established by the state of California. These regulations underscore the paramount importance of ensuring that your chosen furniture adheres to rigorous fire safety standards, providing peace of mind and safeguarding your investment.
Quality Standards and Regulations
Vietnamese furniture manufacturers are strategically aiming for developed markets, with numerous products available on prominent platforms like IKEA, Amazon, Wayfair, Walmart, and Carrefour. Consequently, local manufacturers have implemented highly sophisticated production and quality control protocols.
For added assurance, you can request manufacturers to furnish quality reports for their products.
Collaborating with Furaka for your furniture manufacturing needs ensures you receive comprehensive fire safety and chemical inspection reports, alongside detailed product quality assessments. Notably, these reports are meticulously assessed by SGS SA, instilling confidence and trust among our valued customers.
Minimum Order Quantity (MOQ) Guidelines
In Vietnam's furniture manufacturing landscape, each company stipulates a minimum order requirement. MOQs vary widely across different sectors within the furniture industry and are contingent on the enterprise's size.
Vietnam's furniture manufacturing sector employs two primary MOQ categories:
MOQ determined by product unit quantity (e.g., 1000 units)
MOQ calculated based on quantity multiplied by container volume (e.g., three 20" FCL containers)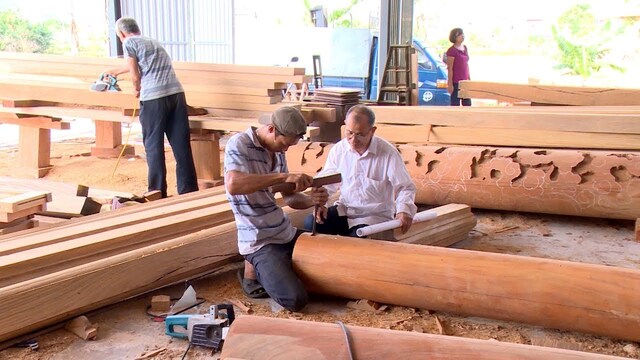 Typically, substantial manufacturers enforce higher MOQs. For orders under 100 units, consider engaging with small to medium-sized manufacturers. Establishing a lasting partnership through negotiation is recommended for long-term cooperation with manufacturers.
Finding a Furniture Supplier in Vietnam
Furaka will now guide you through the process of locating and procuring furniture crafted in Vietnam.
Explore Furniture Manufacturers on Alibaba
Alibaba.com remains the foremost platform for the world's leading B2B furniture suppliers and manufacturers. On this platform, you'll discover a multitude of furniture manufacturers, suppliers, and companies in Vietnam.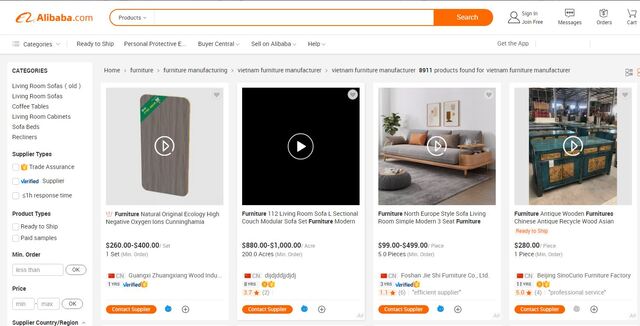 Here, you can delve into their details with precision. You'll uncover essential information like registered business capital, key products, quality certifications, and corporate profiles.
This serves as an excellent and entirely cost-free search avenue at your disposal.
Furniture Expositions in Vietnam for Enhanced Connectivity
For a more immersive and hands-on engagement with furniture manufacturers in Vietnam, consider attending furniture fairs and exhibitions.
Securing a visa for traveling to Vietnam is a streamlined process for international customers. By attending these exhibitions, you'll gain direct access to cutting-edge furniture designs and interact with representatives from various furniture manufacturing enterprises.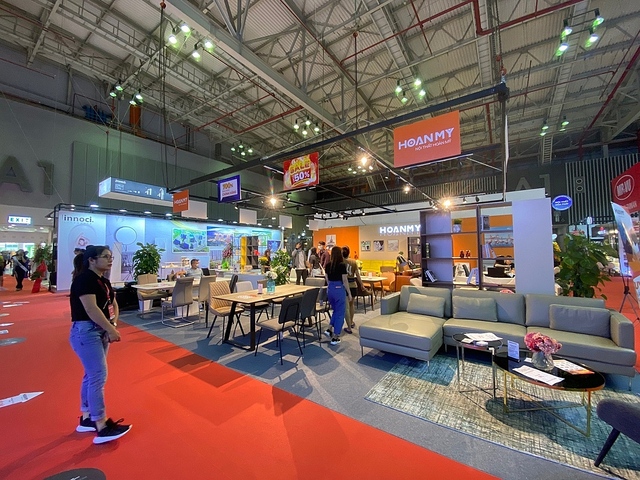 Currently, you have the opportunity to partake in prominent furniture exhibitions tailored to businesses in Vietnam, including:
VietBuild
Vifa Expo
Vifa Gu
Vifa Home
Vietnamwood & furnitec
Readmore: 5 Best Vietnam Furniture show Of 2023 To Find The Manufacturer
Leveraging Intermediaries for Procuring Vietnamese Furniture Products
Exploring furniture products crafted in Vietnam via intermediaries stands as a top-tier option at present. Nonetheless, this method tends to be more costly and might not be ideal for smaller businesses, especially those practicing Fulfilled by Amazon (FBA) models.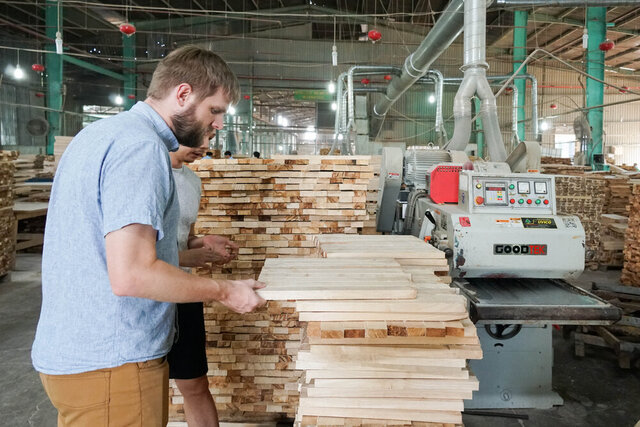 Intermediaries possess extensive databases of Vietnamese producers. Capitalizing on their industry experience and established collaborations, they facilitate the identification of fitting manufacturers based on customer requirements.
You can identify manufacturers through well-regarded intermediaries such as:
Cosmo Sourcing
Chinaimportal
Ordering Process for Wood Furniture Production in Vietnam
In this section, we will provide you with an overview of the steps involved in placing an order for the production of furniture items in Vietnam.
Step 1: Furnish the Manufacturer with Your Design
In Vietnam, you have the flexibility to place orders based on existing designs offered by the manufacturer or provide your own unique design. To facilitate effective communication, you'll need to provide the manufacturer with the following essential details:
Comprehensive product design sketches or blueprints
Specific material preferences
Quality standards and requirements
Distinctive product features
Keep in mind that larger furniture manufacturers in Vietnam often impose higher Minimum Order Quantity (MOQ) standards for customized orders. Therefore, if you intend to place smaller orders, considering designs available from the supplier or selecting a manufacturer with a moderate scale is advisable.
Presently, Furaka stands as a company that accommodates custom production (with designs supplied by customers) with a modest MOQ of just 20 items.
Step 2: Conduct an On-Site Factory Visit
To gain deeper insights into your potential partner and instill confidence in the production process, it's recommended to travel to Vietnam and personally tour the factory. This step allows you to gather additional information and establish a lasting partnership.
Commonly, furniture manufacturers in Vietnam maintain showrooms to exhibit their product range or have representative offices in major cities like Ho Chi Minh and Hanoi.
Acquiring a long-term visa for Vietnam is typically straightforward, as the Vietnamese government actively supports visits from both investors and tourists. This facilitates your access to the country for business purposes.
Step 3: Quality Assurance Discussion
Vietnam has risen to become the 5th largest global exporter of furniture, with an export value of 10.8 billion USD. The country's furniture products are distributed to markets that enforce stringent standards for fire safety, chemical usage, and explosion prevention, including the EU, US, Japan, and more. This environment has prompted local businesses to enhance their quality control procedures and familiarize themselves with these regulations.
To ensure the quality and safety of the products, it's advisable to review the manufacturer's existing test reports. It's recommended that manufacturers furnish these reports in advance and allow you to verify them in person during your visit to the factory.
Step 4: Price and Terms Negotiation
After submitting the design blueprints to the manufacturer, it's crucial to obtain an initial quotation for the desired product. Once you've concluded your factory visit and are content with the specified requirements, you can commence negotiations regarding the pricing.
While Vietnam boasts relatively competitive furniture production costs on a global scale, the discrepancy isn't overly significant when compared to neighboring countries. Therefore, it's advisable to seek a reasonable discount, typically ranging between 5% to 15%, which is generally acceptable.
Nevertheless, it's essential to stipulate stringent guidelines concerning the utilization of raw materials to prevent the utilization of low-cost, low-quality materials by the manufacturer.
Step 5: Sample Production
When considering readily available furniture items, you can directly explore options at the manufacturer's showroom. However, if you opt for customized designs, manufacturers will create sample pieces for your evaluation and approval before initiating mass production.
To ensure accurate execution, customers are advised to supply comprehensive drawings, detailed specifications, and precise material requirements to help manufacturers grasp their exact needs.
Upon sample completion, customers should request confirmation on the following aspects from the manufacturer:
Product design blueprints
Material composition (accompanying invoice)
Paints and coatings specifications
Product safety reports
Currently, Furaka, as a Vietnam-based furniture manufacturer, offers complimentary tailored samples to prospective customers seeking to place orders. (The samples are shipped directly to the customer's designated address for reference before finalizing the order.)
Step 6: Finalize Order Terms
Clients should engage in comprehensive negotiations with the manufacturer to establish the order terms. These terms usually encompass the following critical points:
Payment Procedures (Vietnamese manufacturers typically accommodate various payment methods, notably LC and TT)
Product Quality Specifications
Packaging and Packing Requirements
Production Timeline
Shipping Terms Contingencies for Delayed Deliveries
Bank Account Particulars
Step 7: Pre-Delivery Quality Inspection
While finalizing the contract terms, customers stipulate product quality provisions. To avert unwarranted complications, it's advisable to inspect products prior to containerization.
If shipment timing aligns with your schedule, you can remain in Vietnam to personally assess product quality. Alternatively, you can enlist the services of local quality control experts. Provide them with precise product specifications and details, including:
Visual appraisal (scratches, cracks, warping)
Alignment with design specifications
Dimensions
Fire safety and chemical compliance evaluation
Packaging and packing examination
Placing Custom Furniture Orders from Vietnam with Furaka

Furaka stands as a mid-range furniture manufacturer in Vietnam, boasting expansive facilities spanning over 1000 square meters and a monthly production capacity exceeding 1000 items. Despite our status as a medium-sized entity, Furaka leverages distinct competitive advantages, notably including:
Acceptance of interior furniture manufacturing orders starting from as few as 20 products (minimum order quantity of 20 pieces for OEM)
Provision of complimentary sample production and shipping to our collaborating partners
A proficient team of adept craftsmen known for their precision
Demonstrated expertise in collaborating on the production of wood items for the educational sector, characterized by stringent safety requisites
Economical and highly competitive pricing within the marketplace
Our factory is strategically situated in Khanh Hoa province, Vietnam, strategically positioned near abundant acacia wood sources ideally suited for outdoor furniture fabrication.