Ho Chi Minh City (HCMC), Vietnam, commonly referred to as Saigon by international acquaintances, is a thriving hub for tourism, living, and business for many global residents. This surge in international presence has heightened the demand for daily necessities, particularly interior items. To cater to this demand, Furaka presents a compilation of the top 10 esteemed furniture stores in Ho Chi Minh City (Saigon), renowned for their prestige and recognition within the region.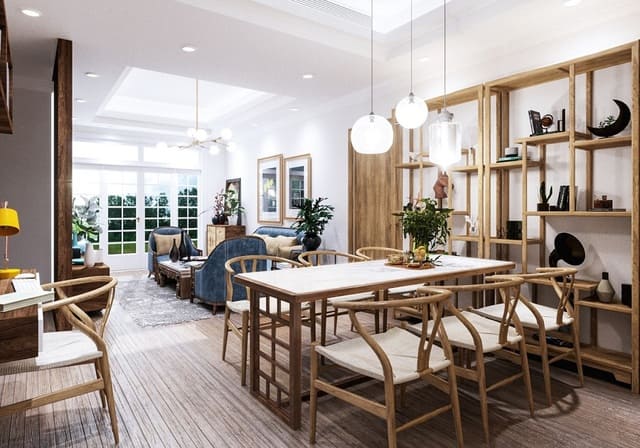 Go Trang Tri
A prominent name in the realm of furniture, Go Trang Tri stands as an eminent and renowned brand both in Ho Chi Minh City and across the nation. With a presence in two major cities, Hanoi and Ho Chi Minh, Go Trang Tri has carved its niche in the industry.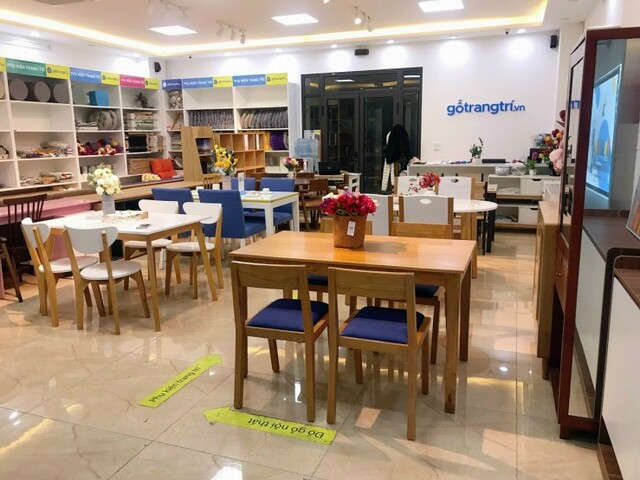 Product lists of Go Trang Tri
Bookshelves
TV shelf
Sofa table
High quality sofa
Dining table
Student desk
Office desk
Makeup table
Bed
Wardrobe
Shoes Cabinet
Liquor cabinet
Cabinet
Decorative cabinets, personal cabinets
Modular kitchen cabinets
Lamp
Carpets
Backrest
Upholstered chairs
Vases
Sofa pillows
Seat mattress
Clocks
Decorative shelves
Wall shelves
Assembled furniture
Porcelain
Bulkhead
Window blinds
Tablecloths
Go Trang Tri's forte lies in wooden furniture items, exuding exceptional quality, contemporary designs, and affordability. Furthermore, shopping at Go Trang Tri offers the added advantage of Cash on Delivery (COD) support, accentuating your purchasing experience.
Contact information of Go Trang Tri
Discover Go Trang Tri's Locations in HCMC:
86 Nguyen Thai Son Street, Ward 3, Go Vap District, HCMC
522 Cong Hoa Street, Ward 13, Tan Binh District, HCMC
Website: gotrangtri.vn
Phone: 0915-800-655
Working hour: from 8.AM to 10.PM everyday
Baya
Baya stands as a prominent interior brand within Ho Chi Minh City, boasting a remarkable 14-year legacy in showcasing premium Vietnamese domestic furniture. Beyond curating a diverse range of interior offerings, Baya excels in crafting tailored furniture solutions through innovative design and construction practices.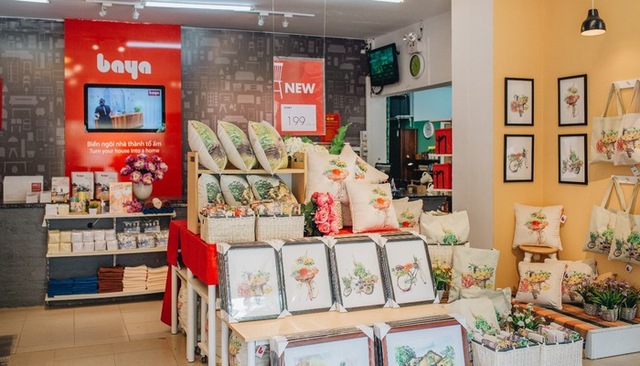 Product lists of Baya
Tables
Dining Tables
Beds
Chairs
Cabinets
Wall-Mounted Products
Mirrors
Children's Furniture
Sofas
Living Room Seating
Mattresses
Office Furnishings
Kitchen Utensils
Tea Sets
Dinnerware (Plates, Bowls, Spoons, Forks)
Dining Table Centerpieces
Lamps
Essential Oils & Aroma Bags
Picture Frames
Floral Arrangements and Vases
Clocks
Candles & Candle Holders
Additional Decorative Accents
Plush Toys
Drapery and Bed Linens
Floor Cushions & Pillows
Accent Pillows
Kitchen Textiles
Tablecloths
Carpets
Curtains
Towels
Baya has emerged as a frontrunner in the interior and decor landscape of Vietnam, offering tailored design solutions that cater to diverse preferences. Purchasing from Baya entitles customers to complimentary delivery, a 3-day return policy, and a 1-year warranty period.
Contact information of Baya
Locations of Baya in HCMC
92 Nguyen Huu Canh Street, Binh Thanh District, HCMC
1417 – 1419 – 1421 Nguyen Van Linh Street, District 7, HCMC
523F To Hien Thanh Street, District 10, HCMC
L6.6 City Land, 168 Phan Van Tri Street, Go Vap District, HCMC
Website: baya.vn
Phone: 1900 63 64 76
Working hours: 10:00– 21:00 Monday – Friday, 9:00 – 21:00 Saturday & Sunday
Beyours
Embrace Beyours, a fresh entrant in the Saigon furniture market, making waves in recent years. Crafted by three visionary young founders, the furniture offerings exude youthfulness, dynamism, and contemporary flair, resonating strongly with the modern generation.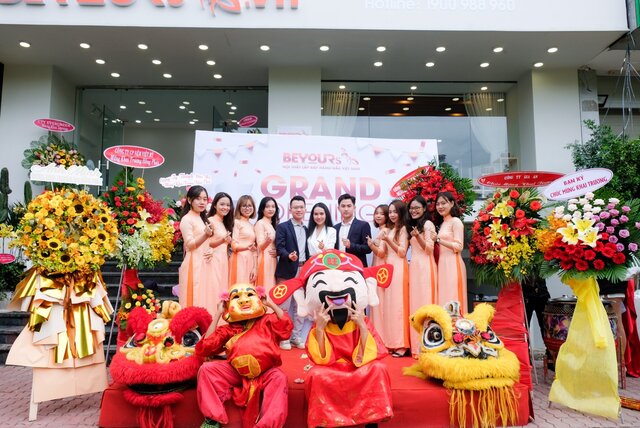 Product lists of Beyours
Clothing Racks
Tables
Shelves
Mirrors
Smart Shoe Cabinets
Kitchenware
Chairs
Sofas
Beds
Blankets, Drapes, and Bed Linens
Mattresses
Bamboo-Based Items
Decorative Accents
Shopping at Beyours entitles you to complimentary delivery within central areas of Ho Chi Minh City. Additionally, you can avail the convenience of exchanging or returning products within 7 days. Rest assured, all products come with a comprehensive 12-month warranty.
Contact information of Beyours
Locations of Beyours:
65 Tran Thi Nghi Street, Wart 7, Go Vap District, HCMC
B5-B6 Kim Son residential area, Tan Phong Ward, District 7, HCMC
3rd Floor, Me Linh Plaza Ha Dong, Ha Cau Ward, Ha Dong District, Ha Noi city
Website: beyours.vn
Phone: 1900 988 960
Working hours: 8:00 – 12:00 everyday
Nha Xinh Furniture
Nha Xinh Furniture stands as a formidable player in the furniture industry, steadily ascending to the summit of the Vietnamese market. This renowned brand has blossomed into a dominant force, boasting an extensive network of elegantly appointed stores across two major metropolises, Hanoi and Ho Chi Minh City. With an illustrious legacy spanning over two decades, Nha Xinh's repertoire exudes an unparalleled design ethos and distinctiveness, setting it apart from the rest.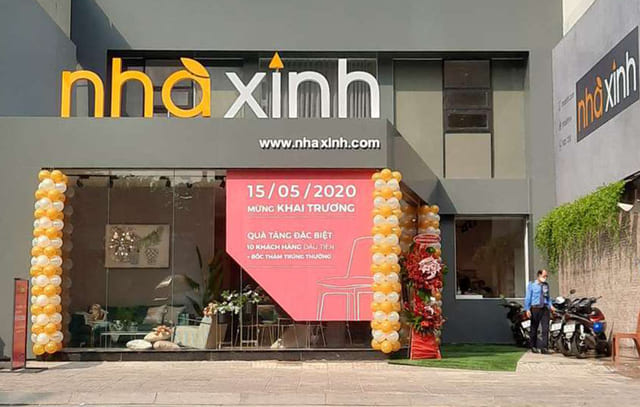 Product lists of Nha Xinh Furniture:
Sofas
Corner Sofas
Armchairs
Coffee Tables
Side Tables
TV Shelves
Display Stands
Benches and Ottomans
Relaxing Chairs
Dining Tables
Carpets
Lamps
Decorative Items
Outdoor Tables
Dining Chairs
Cupboards
Console Tables
Beds
Bedside Tables
Dressing Tables
Drawers
Wardrobes
Closets
Kitchen Cabinets
Working Desks
Working Chairs
Bookshelves
Outdoor Chairs
When you choose to invest in furniture products from Nha Xinh, you unlock a range of advantageous policies, including enticing discounts and nationwide shipping. Moreover, Nha Xinh stands as a renowned interior design and construction powerhouse in Vietnam, further enriching our holistic offering.
Contact information of Nha Xinh Furniture
Locations of Nha Xinh in HCMC:
87A Hai Ba Trung Street, Ward 6, District 3, HCMC (1.000 m2)
L4-20, 4th Floor, Saigon Centre, 65 Le Loi Street, District 1, HCMC
107 – 109 Song Hành – Xa Lo Ha Noi Street, Thao Dien Ward, District 2, HCMC (900 m2)
Phu My Hung residential area , 111 Ton Dat Tien  Street ( near the intersection between Ton Dat Tien and Pham Thieu Street), District 7, (3000 m2)
Website: nhaxinh.com
Phone: 1800 7200
Working hours: 8:30 – 21:00 everday
Do Go Viet Furniture
At Do Go Viet Furniture, we proudly stand as both a manufacturer and supplier of premier, highly regarded furniture in HCMC. Our expertise lies in delivering exceptional wooden furniture items, with a special emphasis on the authenticity of natural wood. Our collection boasts designs that uniquely embody the traditional Vietnamese essence. For those enamored with Vietnamese culture and style, our brand offers a compelling array of interior products to choose from.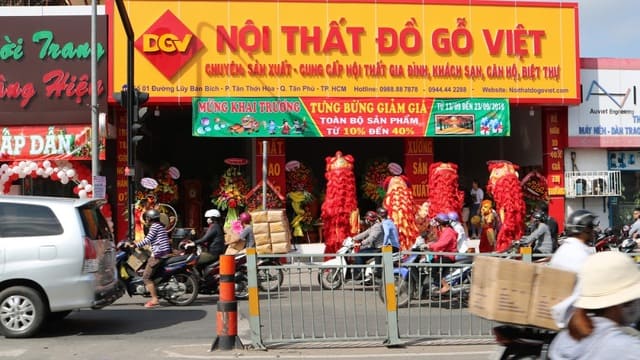 Product lists of Do Go Viet Furniture:
Wooden table and chair
Shoe cabinet
TV shelves
Bed
Mattress
Wardrobe
Dressing table
Dining table
Furniture for worshiping room
When you make a purchase from Do Go Viet Furniture's splendid wooden collection, enjoy the added benefit of complimentary shipping and hassle-free installation within the heart of Ho Chi Minh City.
Contact information of Do Go Viet
Location of Do Go Viet in HCMC:
3 – 5 Luy Ban Bich, Tan Thoi Hoa Ward, Tan Binh District, HCMC
2369/1B 1A highway, An Phu Dong Ward, District 12, HCMC
Website: noithatdogoviet.com
Phone: 028 6275 6689
Working hours: 8:00 – 21:00 everday
Minh Khoi Furniture
Minh Khoi stands as a distinguished interior decoration company, excelling in crafting and delivering opulent and refined interior products tailored to an array of settings, including offices, hotels, restaurants, educational institutions, and residences. Our specialization further extends to the meticulous design and construction of furniture, embracing a diverse range of spaces such as townhouses, villas, and apartments.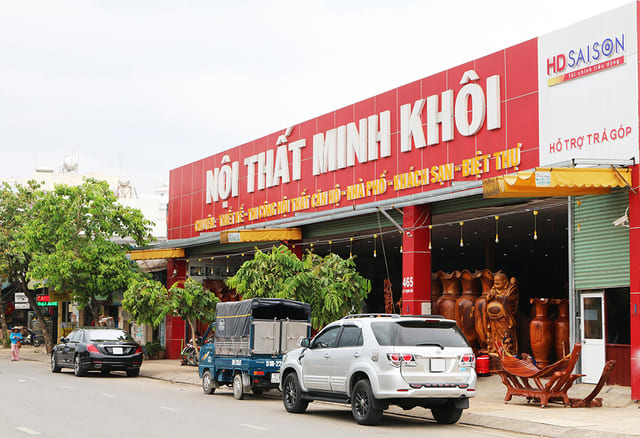 Product lists of Minh Khoi Furniture:
Bed
Wardrobe
Decorative items for living room
Wooden table and chair
Sofa
Kitchen cabinet
Dining table
Office desk and chair
Table for worship room
Contact information of Minh Khoi Furniture
Locations of Minh Khoi Furniture in HCMC:
465 – 467 – 469 – 471 Le Trong Tan Street, Son Ky Ward, Tan Phu District, HCMC
287 -289 – 291 Le Trong Tan Street, Son Ky Ward, Tan Phu District, HCMC
Website: noithatminhkhoi.com
Phone: 09 3333 7788 – 0338 444 999
Working hours: 8:00 – 20:30 everday
Chilai
Established in 1995, Chilai stands as a prominent furniture enterprise. Leveraging its extensive experience and robust capabilities, Chilai is dedicated to enhancing consumers' quality of life through premium interior solutions. Beyond its retail endeavors, the company also extends its services to dealers and comprehensive furniture solutions.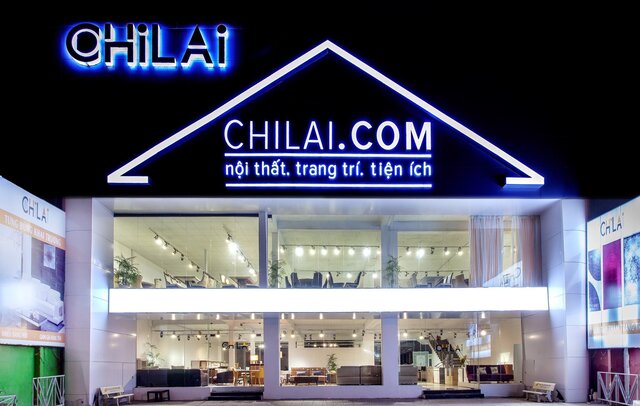 Product lists of Chilai:
Drawers
Liquor cabinet
Table and chair
Bed
Beside table
Dressing table
Office furniture
Curtain
Floorboards
Carpet
Sofa
Sofa table
Relaxing chair
Telephone shelves and cabinets
TV shelves
Shoe cabinet
Mirror
Decorative cabinet
Decorative itemí
Contact information of Chilai
Locations of Chilai in HCMC:
L2-11, 3rd Floor, Gigamall, 240-242 Pham Van Dong Street, Thu Duc District, HCMC
112-118 Hai Ba Trung, DaKao Ward, District 1, HCMC
410 Nguyen Thi Minh Khai, Ward 5, District 3, HCMC
30 Nguyen Van Troi, Ward 17, Phu Nhuan District, HCMC
Website: chilai.com
Phone: 0903 79 70 70
Working hours: 8:00 – 21:00 everyday
Aconcept Viet Nam
For those enamored by the robust and opulent design aesthetics of Northern Europe, Aconcept Vietnam offers a fitting selection. As a prominent and burgeoning brand in the Vietnamese market, Aconcept presents itself as an ideal choice. With a vast network of over 13 stores nationwide, including key locations in Ho Chi Minh City and Hanoi, Aconcept caters to discerning customers seeking refined interior options.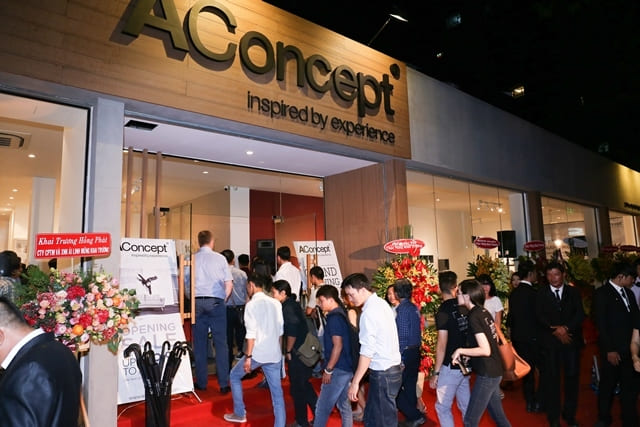 Product lists of Aconcept Viet Nam:
Sofa
Table
Chair
Cabinet
Bed
Decorative items
Aconcept is your dedicated source for modern, youthful, and luxurious Nordic-style interior products. Our specialized focus ensures that your space reflects contemporary elegance. Shopping at Aconcept comes with the added benefit of accessing enticing promotions that enhance your purchase experience.
Contact information of Aconcept Viet Nam
Locations of Aconcept Viet Nam in HCMC:
206 Nam Ky Khoi Nghia, Ward 6, District 3, HCMC
Website: aconcept-vn.com
Phone: 028 3930 3312
Working hours: 8:00 – 20:00 everyday
Thanh Dung Furniture
Established for over two decades in Ho Chi Minh City, Thanh Dung Furniture stands as a prominent player in the Vietnamese furniture industry. Recognized for its leading status, Thanh Dung operates both domestically and internationally. With a specialization in offering interior products, along with top-notch design and construction services, they cater to a wide spectrum of clientele, including families, hotels, and townhouses.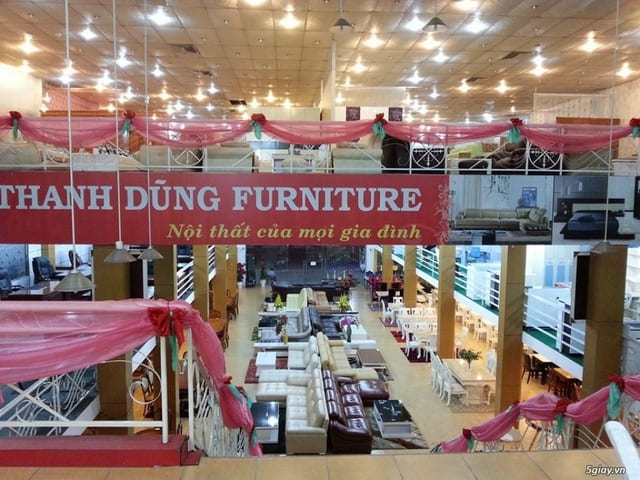 Furniture products of Thanh Dung:
Sofa
TV shelf
Designed cabinet
Sofa table
Decorative carpet
Bed
Closet
Table and chair
Furniture for children
Liquor cabinet
Kitchen cabinet
Office desk and chair
Document cabinet
Apart from offering retail products directly in their stores, Thanh Dung also engages in wholesaling to other agents and fulfills custom-made orders for their discerning clientele.
Contact information of Thanh Dung
Locations of Thanh Dung in HCMC:
384 – 386 No Trang Long, Ward 13, Binh Thanh District, HCMC.
103 ABC Cong Hoa, Ward 4,Tan Binh District, HCMC.
233-235 Nguyen Thi Thap, Tan Phu Ward, District 7, HCMC
398 No Trang Long, Ward 13, Binh Thanh District, HCMC
349 No Trang Long, Ward 13, Binh Thanh District, HCMC
Website: thanhdung.com.vn
Phone: 0914 132 283
Working hours: 8:00 – 20:00 everday
Kims Fullhouse Furniture
Kims Fullhouse, with a remarkable legacy of over 50 years in the South Korean furniture market, has extended its operations to Vietnam for more than 15 years. Throughout its journey, the brand has evolved into a symbol of luxury, prestige, and quality. Kims Fullhouse primarily caters to the thriving markets of Ho Chi Minh City and Hanoi. With a substantial Korean population of over 200 million living, studying, and working in Vietnam, Kims Fullhouse offers an enticing range of furniture products tailored to the preferences of its Korean clientele.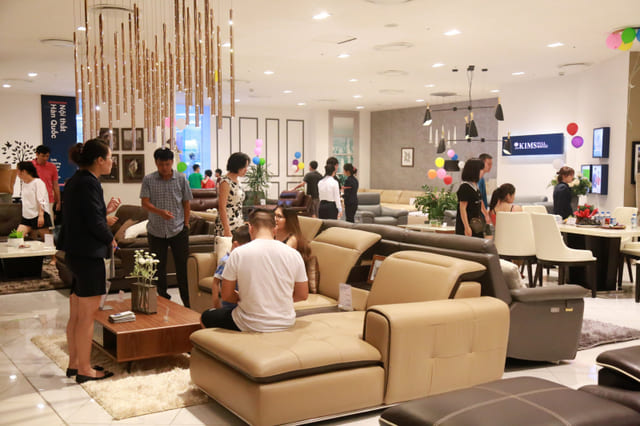 Furniture products of Kims Fullhouse
Sofa
Mirror
G-Moon
Dining table
Relaxing table
Office chair
Coffee table
TV shelves
Cabinet
Decorative items
Purchasing furniture products from Kims Fullhouse comes with an array of enticing promotions. Each product is backed by a comprehensive 12-month warranty, and our maintenance service is provided every 6 months for added assurance. In the rare event of subpar quality, you're entitled to claim up to 200% of the product's value.
Contact information of Kims Fullhouse
Locations of Kims Fullhouse inHCMC:
B2-05 Floor, Vincom Center Dong Khoi – 72 Lê Thanh Ton Street – District 1 – HCMC
3rd Floor, Vincom Mega Mall Thao Dien – 161 Xa Lo Ha Noi Street – District 2 – HCMC
Website: kimsfullhouse.com
Phone: 0949 226 366
Working hours: 8:00 – 21:00 everyday